About The Project
Last Updated: January 1, 2017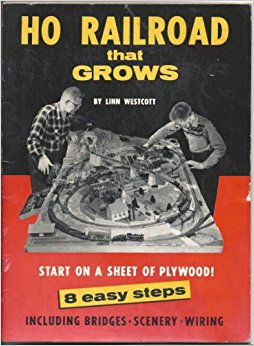 Sometime in 2016, my colleague and friend, Jon, began talking about his train layout he built in his basement. I recalled that as a teenager in the 1970s I had a model railroad set up in the family home basement. Someone in the family had given us some track, a few Plasticville structures, some rolling stock and, I suppose, a locomotive to pull it. A few old Kalmbach books were there, too: Linn Wescott's HO Model Railroad that Grows and 6 Railroads You Can Build. I don't think I progressed more than setting up an oval and a few Atlas Snap-Switches on a old ping-pong table already painted green.
Later in the early 80s, I returned home from two years of college for a break and to work. I decided to return to the hobby of model railroading. Using that same ping-ping table, I set up a more complex layout with a reverse loop and several blocks. I loved the wiring aspect and tried my hand at weathering a few plastic structures which turned out pretty lousy. I purchased HO Primer, another Wescott-authored title and the February, 1980 issue of Model Railroad Craftsman (not knowing then that this was not a beginners magazine).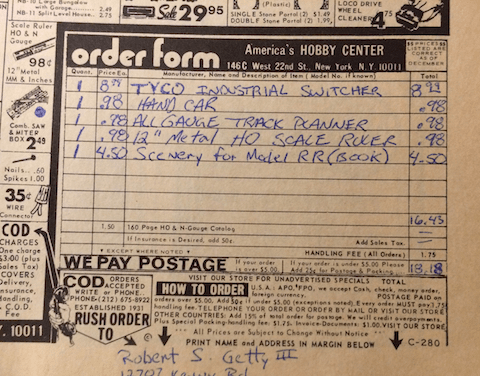 When I pulled these items from the attic a few weeks ago, I found a filled out order form on the America's Hobby Center, Inc advertisement. The items I wanted to purchase revealed I did have an interest in improving my scenery skills. Since the order form remains in the old magazine, I must not have ever placed the order. Hey, $18 was lot for a guy with a job at a fast food restaurant.
I did find the money to buy some Atlas cork roadbed and switch controllers and other wiring system stuff. The photos I saw of Jon's layout didn't resemble that old layout I had built. There was a vast landscape that  spanned more space than a 4 x 8 foot sheet of plywood. In some of the photos there were some wonderful structures that his dad had built not from a kit but from scratch! It looked as if things have changed in the hobby and I was intrigued. He told me about a web site that was having a sale on their pay-walled protected videos. I caved and signed up at Model Railroad Academy for the low price of $7 to access their premium videos. I watched a few, amazed at the quality of the layouts shown. I wasn't aware of these types of impressive layouts in the 80s. Without the web, how could I have known? After a few months, however, interest waned. I think it was due to the fact that we had no basement space and that it would cost so much to make a layout the way I wanted - close to prototype (a term I learned watching the videos…).
"No basement space"? Wait - my wife moved her art studio to a different part of the basement. Once a few walls are removed, there IS space! So, I started asking Jon more questions and a spark ignited my imagination. This blog chronicles the progress with text photos of the planning and construction of the fictitious Monaghan Branch line of the Pennsylvania Railroad.
Thanks for reading.